Fishing Reports

December 2007 in Miami Biscayne Bay and Flamingo Fishing Report
December 2007 was quiet different than the past years during December. We usually would have a cold front move through on a 7 to 10 day cycle, but the jet stream has been blocking the fronts from coming through this year. Instead, this December there have been lots of clear sky days with highs in the mid 80's.


I took a day off and went fishing with a friend, Brian Esposito, from Glades Craft. We decided to head out to Flamigo's back country for some Tarpon fishing. We started out on the still of the dark of the morning, planning to hit around 10 possible spots that may be holding some Tarpon. We found those Tarpon at the second spot and it did not take long for Brian to jump one on a plug rod. After several jumps, the Tarpon threw the lure.
I think that I was the next one to hook a Tarpon on my fly rod. This Tarpon was a monster. I got the hook of the fly set good in his boney mouth. After several jumps, the big Tarpon was still on and was set very deep into the backing. There were still Tarpon all around us. While I was fighting the Tarpon, Brian managed to jump two more Tarpon and somehow snagged a Shark in the tail and landed it. The whole time, I was still doing battle with this same big Tarpon.
I never had my ass kicked by a Tarpon as much as this Tarpon did to me. It took me at least 45 minutes to bring her near the boat and another 15 minutes to land her, get the fly out and set her free. When Brian grabbed the monster Tarpon by her lower jaw, he said "this is the biggest Tarpon I've ever grabbed. Her jaw is as big around as my leg". We ended up jumping 10 Tarpon that morning and landing 3 of them on flies and plugs. We also had the boat put back on the trailer before noon that day.
I had some very good days of fishing from Miami and Biscayne Bay. I fished a few days with Warren Werbitt and his 9 year old son Jonathan. I think we got 4 Bonefish and jumped 4 Tarpon off of Miami. We also caught some big Lemon Sharks, loads of Lady Fish, Bluefish, Jacks and Blue Runners. Jonathan, at 9 years of age, caught his first Bonefish that was around 7 pounds.
November 2007 Fishing Report
This past November we found that there was some very good fishing in Biscayne Bay as well as inshore fishing in Miami.The bone fishing in Biscayne Bay was good with large schools of 6 to 10lb bone fish swimming along the ocean side flats from Key Biscayne to Elliot Key. Permits have been around the deeper flats and along the channels.There have also been a lot of sharks around this month. We found a lot of Lemon Sharks from 4 to 7 feet long. A few Bull Sharks, most of them were on the small side from what I usually come across in the way of Bull Sharks in Biscayne Bay. Most of them were 5 to 6 feet, but the Bull Sharks will run around 10 feet long and weigh somewhere around 300+ lbs.
The inshore fishing in Miami has been good. A lot of small Tarpon running 15 to 25lbs. with a few giant Tarpon that we found mixed with them. We hooked one giant Tarpon on 20lb spinning gear, fought for over 1 and 1Ž2 hours. I estimated this Tarpon would weigh around 150lbs or more. The Snook fishing was also good at this time on the inshore dock lights around Miami. They would range in size between 28 to 30 inches.
Claude David and his wife, Gillian came down from Canada to fish a couple days and a night. Gillian caught several Bonefish during the day and Claude got a lot of Sharks from 4 to 6 feet.
During the night, both hooked some very nice Snook and 6 Tarpon that all got away, but 2 of the Tarpon we got along side the boat before coming loose.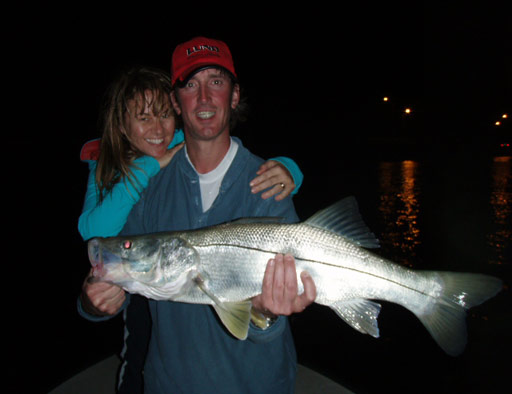 Edwin came over from Argentina to try for some Tarpon on fly. He got his first one hooked and landed for a very quick photo before the release.Two Japanese anglers came over, I could not tell you their names, but we were able to bridge the communication with some bent rods. They got one very nice Lemon Shark and several 6 to 12 lb Barracuda's on some high tech lure that they brought.
Some video of their Lemon Shark and the Barracuda:
To see the video on youtube site,
click here
.
October Fishing Report

I took Steve Clark over to Flamingo (Everglades National Park) for some Snook, Tarpon and Redfish. We launched the boat early that morning only to get chased around by thunderstorms. It was not until about noon that the sky's cleared up and we were able to do some sight fishing with the fly rod.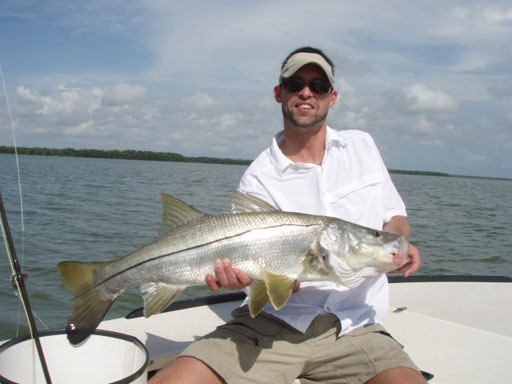 Steve hooked and landed one very large Snook to come off the flats of Flamingo. This Snook measured 35" and was a great catch. Later that day, we found some laid up Tarpon that Steve made a perfect cast to. He was hooked up to a 60 lb. Tarpon on the fly rod. After about a 30 minute battle, Steve brought the Tarpon along side the boat for a release.I was able to fish a good family outing.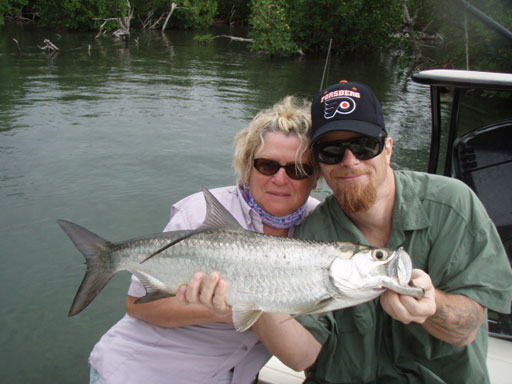 I had the mother and daughter - in - law who hooked several large lemon sharks, but lost most of them except one about six foot. They also landed a small Bonefish, for Biscayne Bay standards, around 4 | to 5 lbs.
The next day there was a very heavy overcast and very high winds. We found some sheltered water and caught a baby Tarpon. The mother got on nice Biscayne Bonefish also.
On another day, Matt Green's father - in - law wanted to get a shark. We hooked a
few that day, but landed just one good 6 | foot lemon shark.
We ended up coming in early due to the weather being so hot.Larry Crouch came down
to fish Biscayne Bay for a couple days and one night. We were able to get a Bonefish each day. One Bonefish, Larry had to use a spin rod due to the wind blowing so hard.
The next day it calmed down and we got one on fly. The next night the Tarpon bite was red hot in Miami. Larry hooked 6 Tarpon on fly and landed 2 of them.


July Biscayne Bay Fishing Report

Summer time is here. You can expect calm mornings and sweltering hot afternoons with thunderstorms, if it's not stormy all day. Despite those thunderstorms and hot weather, there will be some great fishing during this month. This is a great time to try for what is called the grand slam. That would be catching a Tarpon, a Bonefish and a Permit all in the same day.


First light in the morning you should be able to find a good amount of rolling Tarpon all through out Biscayne Bay. At this time of year a lot of baby Tarpon show up, mostly in the 15 to 25 pound range. These Tarpons are very eager to take a well-placed fly or shrimp. Some of the larger Tarpons will be returning from their annual migration as well. The school of Tarpon is not as big as they are during May and June, but well worth putting in the time for them.
The night Tarpon bite will be good through July for the big Tarpons out on the ocean. There are plenty of baby Tarpons inside Miami and Biscayne Bay.


Bonefish will be found tailing during the early morning hours. A well placed light fly cast just in front of a school of tailing Bonefish should get bit. A shrimp should be cast well ahead of the path of tailing Bonefish. Cast it up current so the Bonefish can pick up the scent of the shrimp to find it. Later in the day, try looking for mudding Bonefish in 3 to 5 feet of water.
As for the Permit, they don't seem to be effected by higher water temperatures. You can find them near the deeper edges of some of the harder flats. Using a small crab hard to beat. I like using a circle hook that has a think wire. Cast it up tide of the Permit and I slide the crab back to the Permit as soon as you see the Permit take the crab and reel tight.


Steven Clark and I were out Tarpon fishing one night out of Miami. We showed up to an area with a lot of other boats all bait fishing for Tarpon. It must have been his fourth or fifth cast on a 12 weight fly rod when he hooks up to a monster 150 lb. Tarpon that runs through all the boats that night. Everyone was watching him as he fights this big fish and I don't think anyone else hooked up on bait. After fighting the Tarpon for around 30 minutes, the hook pulled.
The Photos are of Steven Clark with a smaller Tarpon he caught that same night, Heidi Nute with another one of her Tarpons caught on fly, but the first photo she posed with for us, and of Ed Stein with a 32" Bonefish.
Captain Doug Lillard



March Fishing Report
First off, I would like to congratulate Joe and Sarah on catching a 32.5 inch bone fish weighing over 12 pounds that we caught last week in Miami's Key Biscayne. All they wanted to do was to go out and have fun, not really caring to catch any fish at all. We also caught 12 different species of fish that trip including 2 large Spinner sharks, and a big Bull shark with our 32 inch bone fish.
Tarpon season is really getting started right now. We have been finding lots of big fish during the day eating crabs and shrimp with several smaller fish on the inside of Miami during the evenings. We've been fishing most of the Tarpon with fly tackle and averaging 23 to 35 pounds with some reaching up to 50 pounds.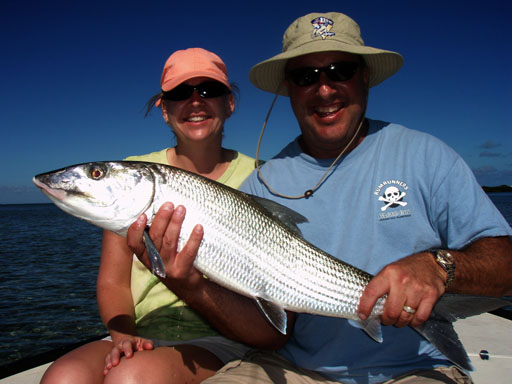 I have been looking for a reel that is capable of long hard fights for big Tarpon and Sharks in the 100 to 300 pound range that also has a small enough diameter that I can fit under the gunnels of my boat easily and has a level wind. Penn has a new product out that I recently purchased 2 of the reels. These are the Penn International 975LD bait casting reels for which I have used for my Tarpon and Shark fishing.


With these reels, we have landed several large Tarpon and some big Sharks. I can see that the drag is very smooth through the duration of the battle and its lever drag system allows us the ability to adjust the drag from the hookup to the end of the fight with great precision. This is the best reel in its class I have ever used. Every other reel that I have used has had an insufficient drag and just can't hold up to the punishment.


I like to set up a rod that can be stowed in a flats boat and is capable of landing large Tarpon and very large sharks. I like to use the Penn975LD on a 7 foot Crowder Rod with 30lb. Spiderwire Stealth. This line has worked very well for me. We have had some anglers who have had fish get stuck in the engine around the trim tabs or have gotten wrapped around lobster traps, which got out so that we could land the fish.
I like to use a 80 lb. Berkley Big Game Leader with a 4/0 to a 6/0 Owners circle hook, snelled, while using the largest shrimp or crab I can get.
Doug -
Just wanted to drop a line to thank you for the great 2 days of fishing. I had an amazing time altogether, and appreciate your expertise as well as your easygoing nature. I am still trying to calm the fluorescent sunburn, and getting ready for tomorrow's surgery - but I cannot stop thinking about that single BONEFISH. It was the capoff to a great day of fishing. Honestly unforgettable.
Thank you, Capt. Doug. You are a good man.
All the best.
Jeff "Clownface" Clark
Captain Doug Lillard
February Biscayne Bay Fishing Report
This unseasonably warm weather has kept Bone fishing in Biscayne Bay very good this winter. Water temperatures have been in the upper 60's to mid 70's which the Bone fish are on tops of the flats all winter.
Guy Warren, from Anchorage, Alaska; had fished with me a couple days after Christmas. He is always happy just to come here to see the sun, but he had managed to get a couple of nice Bone fish on fly this trip. He had caught both an 8 lb. and a 10 lbs. Bone fish while his mother got one around 9 lbs.
On another trip, I fished with Roger from Switzerland who needed to get a Red fish on fly. So we headed to Flamingo for him. It was a very windy day of 15 to 20+ mph out of the South East. He got a nice shot at a Sheepshead that took the fly. But, just as soon as Roger came tight, his rod broke, right before the first stripping guide. All I could do was watch him try to reel it in right from the reel. As he got the fish close to the boat, the rest of the fly rod slid down the line right to the fish, so now it has broken into numerous pieces. The Sheepshead came off and all Roger had was a very broken, very expensive fly rod from Italy, with no warranty.
Later that same day, he hooked one Red fish on one of my fly rods. As we were taking a photo, it flopped out of his hands and it landed mouth first on my 8 wt. Temple Fork fly rod that was sitting under the gunnels and snapped it. We hooked another Red fish that day and while the fish took off, Roger had a huge knot in the fly line. He pointed the rod right at the fish and the top half of my G-Loomis GLX 8 wt. came off and slid down the line to the water. I was able to retrieve it before the fish would have broken it. Now, Roger is fighting this fish from the top half of the fly rod while I'm standing behind him reeling the line in from the bottom half. He was stripping line in trying to land the fish and I was pulling line off when the Red fish would take off again. Just before we could land it, the Red fish swam under the boat. Roger tried to follow it with the top part of the rod still when it hit the trim tab and snapped it again. We did land the 28 inch Red fish, but we did break 3 fly rods that day too.
It's very rare for me to break a fly rod, but eventually you will, so I would recommend buying one with a lifetime warranty. G-Loomis has the best, the Expeditor program is great, and Temple Fork has a good warranty program as well.
Temple Fork Outfitters G-Loomis
www.templeforkflyrod.com - www.gloomis.com
1-800-638-9052 1-800-456-6647
Recently I had the opportunity to fish for the day on the new Glades Craft flats skiff. This skiff excels in all areas of performance. It is quiet while poling, has a very dry ride, goes extremely shallow, and is remarkably stable; more so than other skiffs in its class. All Glades Craft skiffs are made using epoxy resin instead of vinalester or polyester resin. The epoxy is a far superior product and really adds strength to a lightweight skiff lay-up. Speaking of skiff lay-up, all their skiffs are made with Kevlar, core cell foam, and epoxy all vacuum bagged to ensure light weight and eliminate air voids. The skiff unrigged weighs in at just under 400 pounds, drafts 4-6 inches, and is rated for 40 - 60 horse power. They are priced affordably at around $25,000. I feel you're getting a lot of boat for the money. If you wish to see or test ride the boat they are located in Deerfield Beach Florida. Their web site is www.gladescraft.com.
Glades Craft
954-592-0844


If you're in Miami or Fort Lauderdale and you would like to get out on a sport fishing charter, try some flats fishing or some inshore fishing in Miami. Give me a call. I will do my best to hook you up to the fish of your dreams.
Captain Doug Lillard
Phone: (954) 894-9865
Email captdoug61@gmail.com